Robotics
Robo Restaurant Is The New Normal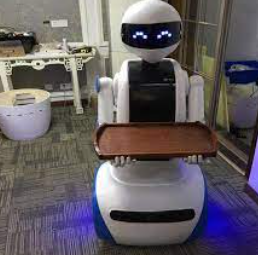 There's no doubt that the restaurant industry is evolving. With new technology comes new opportunities and new challenges. One of the latest trends to emerge is the rise of the robo restaurant. So, what does the future hold for Robo restaurants? one thing is certain: they're here to stay. In this post, we are going to discuss the important thing about food delivery robots. Hence, as a businessman, this post will be very useful, especially for hotel owners.
Robo restaurant
And they're drawing everyone's attention as customers embrace the convenience of delivering their food to their door. There are a few key reasons why Robo restaurants are on the rise. They're much cheaper to set up and run than traditional restaurants. There's no need for expensive decor or furniture; you can operate with a smaller staff.
They're more flexible because they can be located anywhere, meaning you're not tied to high-rent areas. And they can be opened and closed much more quickly than traditional restaurants, making them ideal for busy entrepreneurs.
They're more convenient for customers. With delivery becoming increasingly popular, Robo restaurants are perfectly positioned to meet this demand.
How robo restaurants are changing the food industry
Robo restaurants are the new normal. They are changing the food industry by making it easier for people to get food. A recent study found that nearly 60% of restaurants are interested in ordering food from a robot restaurant. And it's no wonder why robot restaurants offer several benefits over traditional restaurants. Here are just a few of the many benefits of dining at a robot restaurant:
Background music
Suppose you're looking for some fun and excitement with your food delivery. In that case, you may be in for a treat thanks to the development of a new AI food delivery robot that can entertain customers with background music.
The 'Lucki' robot greets restaurant customers with background music. The robot is also equipped with several sensors that allow it to avoid hurdles. The robot could also majorly impact the wider food delivery sector, which human workers dominate.
With Lucki, handling food delivery could free up human workers to focus on other tasks, such as preparing the food or dealing with customer queries.
Faster Service
One of the biggest benefits of robot restaurants is that they offer faster service. This is because robots can deliver food much faster than human beings. As a result, you can expect to get your food faster when you dine at a robot restaurant.
Lower Prices
Another big benefit of robot restaurants is that they typically offer lower prices than traditional restaurants. This is because robots don't require things like health insurance or vacation time and can work longer hours than human beings. As a result, robot restaurants can pass these savings on to their customers through lower prices.
Improved Quality
Because robots can deliver food more precisely than human beings, you can expect to find improved quality at a robot restaurant. When robots deliver food, there is less human contact, which is why it improves hygiene.
Conclusion
The demand for service robots is increasing every coming day. If you're looking for a new dining experience, you should check out a robot from Orionstar. Ultimately, the robot aims to provide customers with a "unique and personalized dining experience.